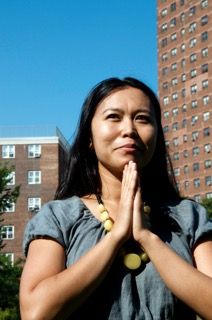 When: April 4, 2017
Where: Espresso 77 Café, 35-57 77th Street, Jackson Heights, NY 11372.
Time: 7:00 — 8:30 PM (open-mic sign up at 6:30)
Cost: $5 minimum purchase at the food counter.
More Information: Richard Jeffrey Newman
Sokunthary Svay was born in a refugee camp in Thailand after her parents fled Cambodia once the Khmer Rouge regime collapsed. She is a Pushcart-nominated Khmer writer (poetry and nonfiction) and musician from the Bronx, New York. Her writing has appeared in FLESH (Fixi Novo, 2016), Homelands: Women's Journeys Across Race, Place, and Time (Seal Press, 2006), and more recently in Prairie Schooner, Women's Studies Quarterly, LONTAR, and Mekong Review. She is the recipient of the First Friday Residency at the Jamaica Center for Arts and Learning, and the Willow Arts Alliance/Weeksville Summer Arts Residency Fellowship. Her recent collaborations include two different settings of her poem "Morning Song" by award-winning composers David Schober and Liliya Ugay. She is a Willow Books Emerging Writer currently completing her first manuscript scheduled for publication in Fall 2017. In addition, she is writing the libretto for a monodrama opera for soprano and piano in collaboration with composer Liliya Ugay, as well as Poetry Editor for Newtown Literary, the only literary journal for the borough of Queens in New York City.
This event was funded in part by Poets & Writers, Inc. through public funds from the New York City Department of Cultural Affairs, in partnership with the City Council.