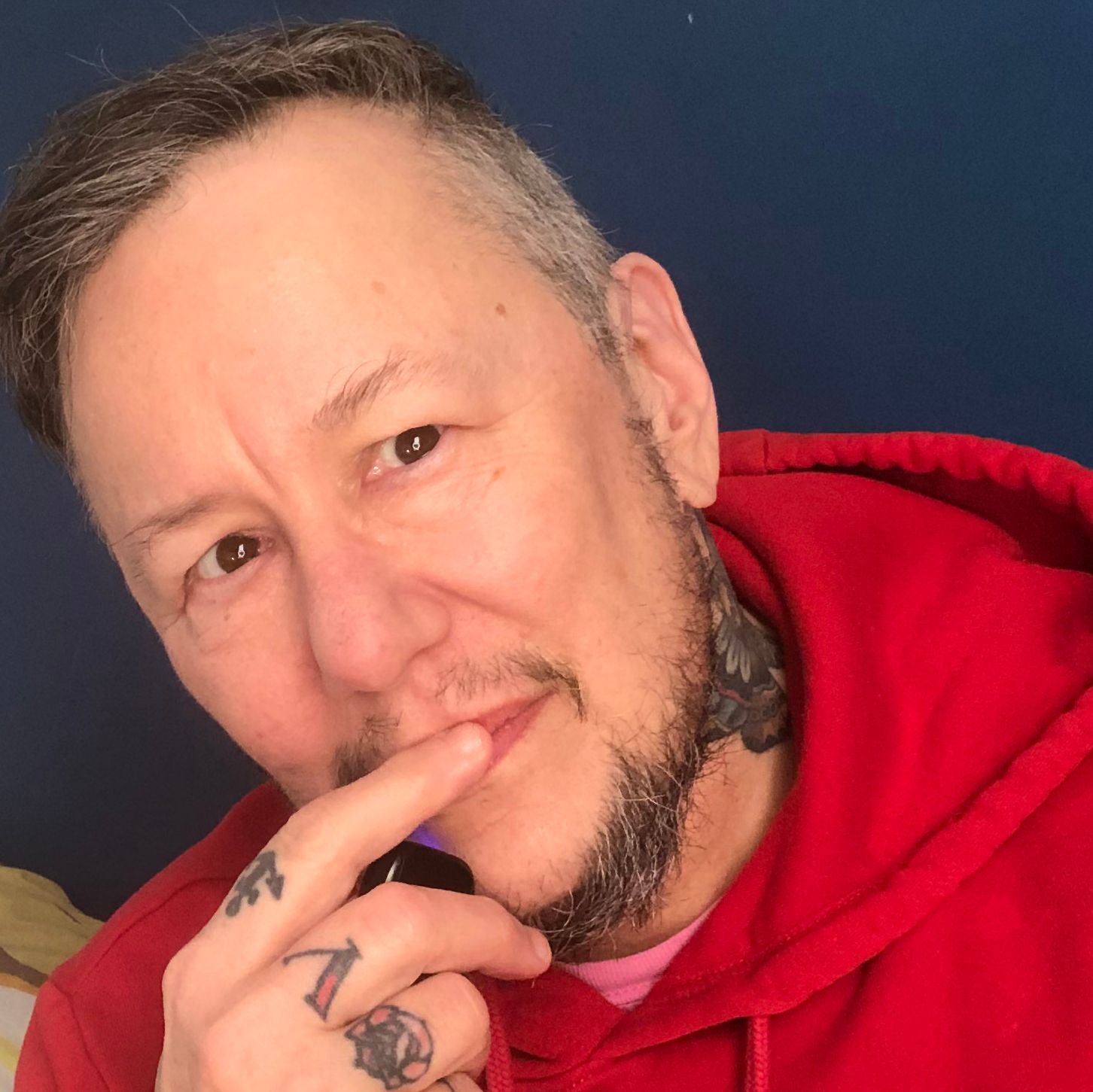 When: November 7, 2023
Where: Espresso 77 Café, 35-57 77th Street, Jackson Heights, NY 11372.
Time: 7:00 — 8:30 PM (open-mic sign up at 6:30)
Cost: $5 minimum purchase at the food counter.
More Information: Richard Jeffrey Newman
Sam Peterson is an author/playwright/portraitist who puts "artist" before his other identities as a gay, queer, activist and transgender man. His first book, Trunky (transgender junky): A Memoir of Institutionalization & Southern Hospitality, is a darkly funny recounting of his time spent on the Men's Unit in Butner, NC for heroin addiction, where he had a front row seat to the struggles of men attempting to retain their own identities as hard men, while desperately needing to surrender their violent, addictive ways to stay clean and sober. Sugar, A Memoir of Craving, his second book, looks at the sixties, seventies, and eighties through the lens of various substances, the first being his addiction to sugar. Also, darkly funny, it is a drug-infused jaunt through suburban Virginia, to D.C., and then New York City, as he (then "she") struggles to survive as an artist and musician while battling persistent devils. He currently lives in Durham, NC, where he works as an educator for rape prevention. He discovered, in his sixties, that he loves camping, so he and his tiny teardrop camper have been touring the mountains and sea. He is weirdly obsessed with pocket knives, walks three miles a day with his 88-year-old father, and stays at home a lot with his cat. His next project is turning Trunky (transgender junky) into a stage play.
Here's a brief sample from Sugar, A Memoir of Craving:
INTRO
The most powerful, abiding feeling you get to experience sober, is grief. I can tell you I live with grief like it is a virus snuggling the base of my spine; it never goes away but it is thankfully, sometimes in remission.
She, on the other hand, spent her short life avoiding grief. Really, any kind of pain. She would go to extraordinary lengths of self-deception and erasure to avoid emotional pain. She had even equipped herself with a narrative: "I guess I'm just the type that never looks back."
But running and suffocating are very different than never looking back.
SUGAR
At last it was morning, which meant Honeycombs. It was also Saturday and so the Saturday morning ritual also meant Looney Tunes for 90 minutes. It meant she could get the family-size box of cereal and sit, back-on-the seat/legs-up-the-back, and put the sweet, crunchy, mysterious food in her mouth, again and again.
Honeycombs had a bee-theme, and were shaped like little buff-colored rounds of comb. Some were larger, some smaller. The larger ones were more porous; they almost crumbled in her mouth. She could put several in a stack and crunch down on them all. It would not be until Pringles were invented that another such oral texture could be had. Crunch crunch crunch! Then the pulverized material would begin to dissolve in her mouth.
At last it was Saturday, at last the sun shone bossily into the sunporch, obscuring the screen image of the too-heavy-to-move television. It was 1967 and portable was the province of radio. Bugs Bunny was her dream date; it wasn't until the next year that she would realize that Bugs was meant to be a boy. Bugs donned dresses, was gendered in a way that was so brilliant, such a rare gem. Bugs was a kind of liberation observable even by a six-year old.
---
This event is funded in part by Poets & Writers with public funds from the New York State Council on the Arts with the support of the Office of the Governor and the New York State Legislature.