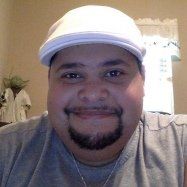 When: December 2, 2014
Where: Espresso 77 Café, 35-57 77th Street, Jackson Heights, NY 11372.
Time: 7:00 — 8:30 PM (open-mic sign up at 6:30)
Cost: $5 minimum purchase at the food counter.
More Information: Richard Jeffrey Newman
Rich Villar is a poet, essayist, editor, and educator originally from Paterson, NJ. He serves as Artistic Director of La Sopa, a community-based program for writing and performance in NYC. His first collection, Comprehending Forever, was published by Willow Books in 2014. Most recently, he served as faculty for the Frost Place Conference on Poetry and Teaching, and he teaches poetry and essay writing in schools and nonprofit centers throughout the Northeast. Here's one of Villar's poems:
Aubade: Dawn Viewed Through the Mask of a Bilevel Positive Airway Pressure Machine
Thank you, God, for the mechanics of my awakening:
air pushing rhythmically over my synapses;
my pupils, a thousand facets of a diamond;
vision creeping into my brain like water
rushing under my door. Still unsure
if this is my eye's sleeping geometry,
or the sun's first testimony,
the alarm clock pours Corcovado
into our bed, where no fear resides,
and perhaps I am aware, as Lazarus was,
of the interplay of light and consciousness,
a voice sounding me into sudden being.
It is you who transforms this bundle of wires,
straps, plastic mask, and motorized lung, back
into quickened flesh with mind and fingers:
"Amor. You're so cold." And you slip your leg
over mine, and your heat becomes my heat,
and your breath becomes my breath.
This event was funded in part by Poets & Writers, Inc. through public funds from the New York City Department of Cultural Affairs, in partnership with the City Council.