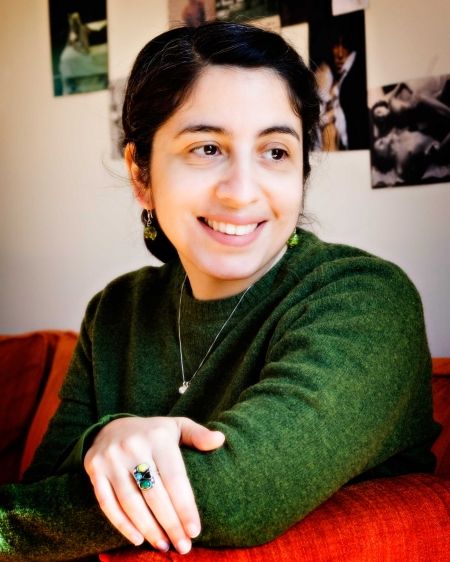 When: June 3, 2014
Where: Terazza Cafe, 40-19 Gleane St. Elmhurst, NY 11373.
Time: 7:00 — 8:30 PM (open-mic sign up at 6:30)
Cost: $5 suggested donation.
More Information: Richard Jeffrey Newman
Nancy Agabian is the author of Princess Freak, a collection of poems and performance texts on sexuality and rage, and Me as her again: True Stories of an Armenian Daughter (Aunt Lute Books), a memoir that casts her bisexual coming-of-age within her Armenian-American family history; the latter was honored as a Lambda Literary Award finalist for LGBT Nonfiction and shortlisted for the Saroyan International Prize. She is also one of the tri-authors of (An)daratsutian Mej (In the [Un]Space), an experimental book in English, French and Armenian. Her essays have been published in Ararat, Women Studies Quarterly (The Feminist Press) and the anthologies Homelands: Women's Journeys Across Race, Place and Time (Seal Press) and Forgotten Bread: First Generation Armenian American Writers (Heyday Books). Her poems appear in the Armenian anthologies Birthmark (Open Letter Press) and Deviation (Inknagir). As a performance artist, she has fronted a folk/punk band, Guitar Boy, and produced a CD entitled Freaks Like Me; she has presented her solo performances in L.A., San Francisco, New York, Geneva, and Yerevan. A Fulbright scholar to Armenia for 2006-07, she is currently working on a nonfiction novel on the influences of nationalism, corruption, and family on personal freedom in post-Soviet Armenia. She teaches writing at Queens College and New York University. As a community workshop leader, she has worked with multicultural actors in Los Angeles, immigrant writers in Queens, and women writers in Yerevan.  She currently coordinates Heightening Stories, a workshop for stories that are personally brave and socially conscious from her living room in Jackson Heights.
This event was funded in part by Poets & Writers, Inc. through public funds from the New York City Department of Cultural Affairs, in partnership with the City Council.