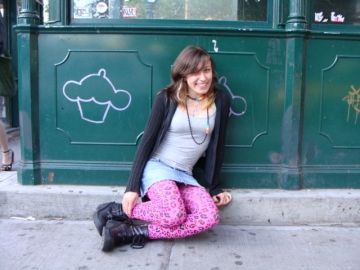 When: Tuesday, September 3rd, 7-9 (sign-up starts at 6:30)
Where: Terraza Cafe, 40-19 Gleane Street, Elmhurst, NY
Info: Contact Richard Jeffrey Newman  There is a $5 suggested donation.
The first of our First Tues­days fea­tured read­ers will be Audrey Dimola. Some of her earliest memories involve wanting to become a trapeze artist, but she has since devoted herself to pursuing literary acrobatics instead. A life­long writer and performer born and raised in Astoria/Long Island City, Queens, Audrey is a jour­nal­ist, edi­tor, poet, and cura­tor work­ing in the NYC area. Her poetry and prose is infused with visceral images, crackling energy, and sometimes even song - live, it becomes a kind of spoken mixed media of life experience, the alchemy of ache into art. Audrey enjoys collaborating, creating, and exploring in as many ways possible. She is the author of Decisions We Make While We Dream, and her work has appeared in many publications including, Newtown Literary, Missfits, Words Dance, Whiskey Dregs, Glitter and Doom, QRO Mag, and Ins&Outs. For more information check out her website.
This event was funded in part by Poets & Writers, Inc. through public funds from the New York City Department of Cultural Affairs, in partnership with the City Council.