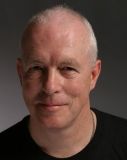 When: January 7, 2014
Where: Terazza Cafe, 40-19 Gleane St. Elmhurst, NY 11373.
Time: 7:00 — 8:30 PM (open-mic sign up at 6:30)
Cost: $5 suggested donation.
More Information: Richard Jeffrey Newman
Kevin Carey teaches in the English Department at Salem State University. His work has been nominated for a Push Cart Prize, won Best of the Net 2011, and was a finalist for The Million Writers Award 2012. He recently was chosen as a finalist for 2012 Black River Chapbook Competition in Fiction. His co-written screenplay Peter's Song won Best Screenplay at The New Hampshire Film Festival 2009 and his one act plays have been staged at The New Works Festival in Newburyport, Mass and The New Hampshire Theater Project. His first book of poetry is The One Fifteen to Penn Station (Cavankerry Press, N.J.) Kevin is also a seventh grade basketball coach in Beverly, Mass and a part time filmmaker. He has recently completed a documentary film about New Jersey poet Maria Mazziotti Gillan, called All That Lies Between Us.
This event was funded in part by Poets & Writers, Inc. through public funds from the New York City Department of Cultural Affairs, in partnership with the City Council.