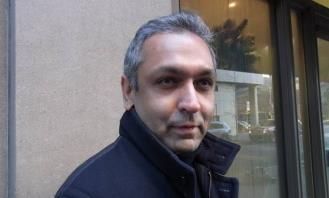 Bhisham Bherwani's first poetry collection, The Second Night of the Spirit, was published in 2009 by CavanKerry Press. His anthology of modern and contemporary poetry in English (including translations) from India was published in 2012 by Atlanta Review. In addition to his M.F.A. degree from New England College, he holds undergraduate and graduate degrees, respectively, from Cornell University and New York University. He has received scholarships and fellowships from the Bread Loaf Writers' Conference, The Frost Place, the Saltonstall Foundation for the Arts, Ucross Foundation, and the Jentel Artist Residency Program. He was born in Bombay, India and lives in New York City.
---
When: Tuesday, December 3rd, 7-9 (sign-up starts at 6:30)
Where: Terraza Cafe, 40-19 Gleane Street, Elmhurst, NY
Info: Contact Richard Jeffrey Newman There is a $5 suggested donation.
---
This event was funded in part by Poets & Writers, Inc. through public funds from the New York City Department of Cultural Affairs, in partnership with the City Council.